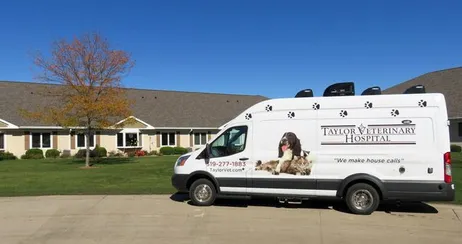 Do you have a hard time getting your pet to the vet?

Do car rides make your pet nervous?

Does your cat get stressed by vet visits?
We are excited to offer home wellness care to the community with our mobile veterinary clinic. This clinic will enable us to provide your pet the necessary annual wellness care in the comfort of your home.
Frequently Asked Mobile Veterinary Visit Questions:
What services does the mobile clinic provide?
Annual wellness care: Comprehensive physical, vaccinations, drawing blood for heartworm/tick-borne disease testing, as well as other wellness bloodwork that tests for internal organ health.

Diagnose and treat eye, ear, or skin issues.
Prescribe and dispense medications
What do I do if my pet is sick?
For sick pets, we recommend scheduling an appointment at our 315 State Street, Cedar Falls location so our full in-house lab, digital radiographs, and ultrasound can be utilized. The ability to use these advanced diagnostic tools will enable us to develop a plan to treat your pet.
What kinds of animals do you see?
We treat cats, dogs, ferrets, rabbits, guinea pigs, and small rodents. We do not treat livestock, horses, reptiles, or birds.
How do I schedule an appointment?
Call our office (319-277-1883) and we would be more than happy to schedule an appointment. You can also request an appointment online.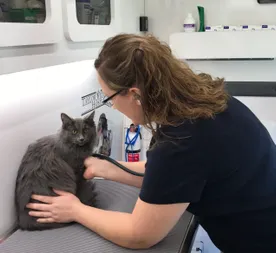 How should I prepare for my home visit?
We ask that patients are easily accessible when we arrive. For cats, we recommend that you confine them to your bathroom, or another room without large furniture for them to hide under.
For wellness exams, please collect a fresh (less than 24 hours old) stool sample for intestinal parasite testing.
Having a list of concerns prepared in advance will ensure all your questions are answered before we leave.
What does a typical appointment look like?
Please allow a 30 minute window before and after the scheduled appointment time for our arrival. If requested, we can give you a call when we are on our way to your home. Most of the visit will happen in your home, but there will be times when the doctor and technician need to take your pet to the mobile clinic. This will be for procedures such as getting your pet's weight, drawing blood, and other diagnostic tests.
How far do you travel?
Our service area is currently limited to homes within the Cedar Falls/Waterloo city limits. For homes outside of our service area
there will be an additional mileage charge.
How will you charge for the home visit?
There will be a home visit charge for the first pet that we see and a discounted rate for each additional pet. All other charges will be the same as a regular visit in our office.
We accept cash, all major credit cards, Care Credit and ScratchPay. Professional fees are due at the time of service.