Laser therapy is used to provide pets with faster recovery times, give pain relief, decrease inflammation and swelling associated with soft tissue injuries, trauma, surgery and chronic everyday disorders. It also helps with joint and bone injuries, reduces arthritis pain and speeds healing. Companion Therapy Laser is a class IV laser which delivers a large amount of light energy into your pet's body which interacts with damaged cells. Healing is accelerated and pain is virtually eliminated.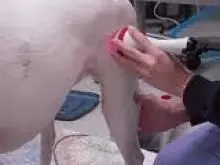 Uses include but not limited to:
Ear infections
Gingivitis
Periodontal Disease
Hot Spots
Lick Granulomas
Arthritis
Hip Dysplasia
Anal Glands
Interverterbal Disc Disease
Post-operative pain and inflammation
Wound healing
Cystitis (bladder infections)
Sinus infection
Read the testimonials below from some of our owners who have seen how well the laser has worked for their pets.
"During the summer we experienced success using the laser therapy with our dog Skylar. Skylar was obsessively licking a spot on the ankle of her rear foot; so much that it created an open, raw hole that would not heal and she would not leave it alone. After trying other treatments, Dr. Smith suggested using laser therapy. The treatments were easy on Skylar (and us) as they lasted only a few minutes and were pain free. The technicians were awesome by even getting on the floor to administer the therapy so that Skylar would not have to be put up on the table! After each laser treatment, Skylar would leave her leg alone, with the time between treatments increasing. We are happy to say that using the laser therapy broke the cycle! Skylar has stopped the obsessive licking, giving her leg time to heal. We were very satisfied with the laser therapy and would definitely use it again if needed." ~ Clarence, Wende and Skylar
"We brought Tuffy in with a back injury that made him paralyzed in the back legs. Dr. Smith suggested that we try the laser therapy. He said it would help to reduce the swelling and make the healing process faster. Within a few treatments we noticed improvement. We have continued on with the laser therapy and now Tuffy can walk. It's not pretty, but at least he can walk around now. I'm so thankful for all the helpful staff at Taylor Veterinary Hospital that helped with Tuffy. We believe Tuffy wouldn't have gotten better without the laser therapy treatments". ~ Nicki and Tuffy
"I must admit that I was somewhat skeptical when Dr. Smith suggested laser therapy for Buddy. However, after several treatments I must say I'm a believer. The laser therapy greatly helped reduce the inflammation around the area of Buddy's wound. It also aided in reducing the size of the wound. One more benefit was an increase in Buddy's mobility. He went from almost dragging the leg with the wound on it, to jumping around and even playing with my other dog. This laser therapy is well worth the cost." ~Dan and Buddy
"Our Black Lab, St. Bernard mix Simon would chew on his once broken leg, because of the arthritic pain, during the winter until he had large sores. He was given several laser therapy treatments and the areas affected cleared up. Due to the laser therapy, now we have been able to maintain his pain with a small amount of medication in the morning and the chewing has stopped." ~ Sandy and Simon
"Spike is a 12 year old German Shephard. He is constantly with me 24/7, so I am lucky to be able to observe even the smallest changes in his abilities and behavior. He developed a licking sore on his front leg joint, and he has failing hip strength from joint problems. Since he is already on powerful pills for Cushing's disease, I didn't want to use additional medication for his joints, so I looked into laser light treatments. I didn't expect great results but they are inexpensive and have no side effects, so I figured I had nothing to lose. Wow! I was very surprised! The first treatment seemed ineffective for about a week, but after a week, his hips regained a noticeable and constant gain in strength and coordination, and the lick granuloma is virtually gone. Spike has had single follow up treatments as needed, which seems to be about 2 to 3 months apart. Every time I can see the difference, it is measurable with how high he lifts his rear legs as he walks on a flat surface. This has greatly extended his mobility, and therefore, his life. I recommend it without hesitation." ~ Dave and Spike