The death of a pet can cause a tremendous amount of heartache and grief. Pets are our companions, friends, and family members – a source of unconditional love. Unlike when our human loved ones die, when a pet dies, we are often not given the support or the time we need to grieve. Grief is a wound of the heart. It is about love – a love of physical presence that transitions into a love of absence. Loving another, whether a person or your animal companion, does not stop when they die. There is great benefit in sharing the story of your relationship with your pet as well as your very human and normal feelings of pain, numbness and loneliness. It also helps to have a coach when you are ready to reinvest back into life. If you need support, there are people who can help.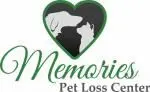 We are proud to partner with Memories Pet Loss Center who provide pet cremation and burial services. Please call us, go to their website, or call them directly to find out more information.
Memories Pet Loss Center
3669 Logan Ave.
Waterloo , IA 50703
319-234-1362

~ For more online resources, look at some of the following websites. Please know we are grieving with you.
Lap of Love Veterinary Hospice - website has a lot of good information regarding pet loss and grief.
Pet Loss Help Pet loss blog and answers to common questions regarding the loss of animal companions.
An article in The Washington Post, "The Death of a Pet Can Hurt As Much As the Death of a Relative."
Books on pet loss and other related subjects from the Association for Pet Loss and Bereavement.
This site from Colorado State University's Veterinary Teaching Hospital has useful information on the grieving process, moving forward and helping children through pet loss.